Second point of interest: Sohail Castle
---
ADDRESS
: C/ Tartesos. 29640 Fuengirola
SCHEDULE
: Closed during the Summer for events. Check the Marenostrum agenda at
www.marenostrumfuengirola.com
PHONE NUMBER:
952 46 74 57
Sohail Castle is located at the mouth of the Fuengirola River, on a small isolated hill that rises 38 meters above sea level. The magnificent geographical conditions of this place allowed, since ancient times, the continued settlement of its slopes by Punics and Romans. On the ruins of their settlements, already in the Caliphate period (10th and 11th centuries), a first enclave was built -perhaps a beacon tower- and, later, the Castle. Archaeological tastings carried out years ago, show Roman and possibly Phoenician remains (Ciudad de Suel). Later, in the 12th century, the Almoravids built a defensive enclosure with an irregular floor plan. In the year 1485 the castle is occupied by the Christian army.
From that moment on, the military compound will undergo an inevitable process of readjustment of its architecture, such as the replacement of the angled axis entrance with a direct entrance, the elimination of one of its lifting towers for the construction of a platform for the emplacement of cannons, or the rearrangement of the southwest corner of the wall with a loophole wall, after it was blown up by the Napoleonic army in the midst of the War of Independence.
The works carried out in recent years by the Fuengirola City Council Workshop School have made it possible for the Sohail Castle to be recovered as a meeting place for the people of Fuengirola with their History and as a space where different cultural events can be held, such as the famous Festival Ciudad de Fuengirola or the Medieval Market.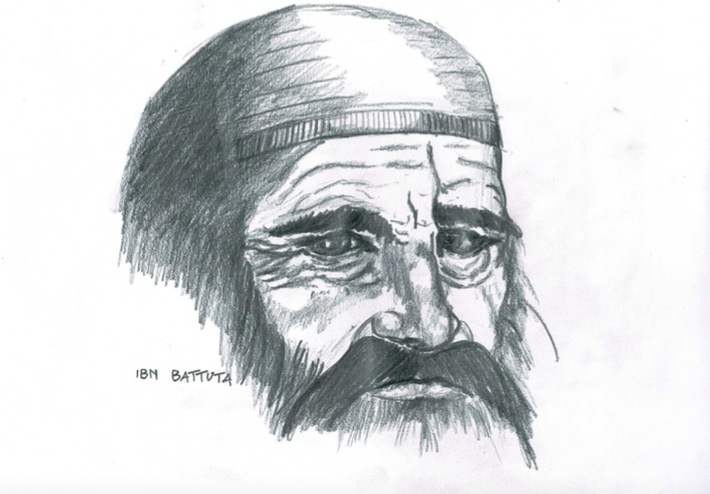 Ibn Battuta

Son of Muhammad son of Ibrahim. He was born in Tangier, very close to this wonderful city, Fuengirola, at the beginning of the 14th century. He has traveled a lot and has left behind his maps and the maps he made throughout the Mediterranean and beyond, so that they serve to publicize hitherto unknown paradises and treasures from the farthest east. It will tell you the history of Fuengirola in its Andalusian-Muslim era.
Doña Leonor de Osorio y Astorga:

Mother of the castle warden, Pedro de Moriana de Osorio, descendant of the most noble house of the Marquises of Astorga and granddaughter of the field master D. Alfonso Osorio of Astorga, who won this castle from the Moors. She was married to the noble knight Captain D. Pedro de Moriana Godoy. She died and was buried in the Castle in 1637 and you can find her tombstone in Sohail Castle. It will tell you the history of Fuengirola and everything that happened in its castle in the Christian era.